Blue Quartz Countertops Manufacturer | Seven Features of Artificial Stone
Views:18 Author:YEYANG STONE GROUP. Publish Time: 2020-09-02 Origin:Xiamen Yeyang Stone Group
Blue Quartz Countertops Manufacturer | Seven Features of Artificial Stone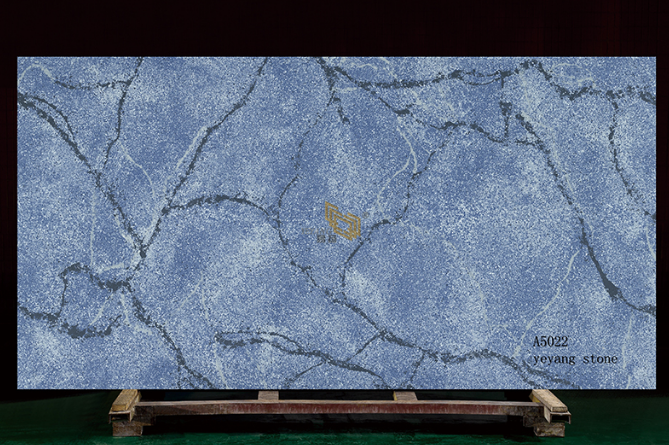 Artificial stone countertop is a kind of material currently used in the market. It not only has beautiful appearance, excellent performance, energy saving and environmental protection, but also can be matched with various homes. Therefore, more and more families choose cabinet countertops and coffee table countertops. Stone countertops. Let's get to know the artificial stone together.
Artificial stone countertop features:
Non-toxic and environmentally friendly: non-toxic and non-radiation.
Seamless splicing: The seamless splicing makes the surface of the artificial stone products uniform, beautiful and smooth.
Strong modeling: The artificial stone has good toughness, is not easy to be broken, can be bent by heat, and has a strong ability to customize.
Flame-retardant and heat-resistant: The added mineral filler makes it have good flame-retardant properties.
Low water absorption rate: The water absorption rate of artificial stone is 1% of that of natural marble. It is treated by vacuum technology and is dense and non-porous.
Easy to take care of: Use rags and water for daily maintenance, no need to wax, any scratches just need to wipe with sandpaper and water to brighten as new.
Comfortable hand feeling: The artificial stone does not have the cold feeling of marble, the surface is smooth and delicate, and it is comfortable and moist to touch.
Blue Quartz Countertops Manufacturer, Cheap, Brands, Sales, Suppliers, Quality, Best, Selling, Factory, Manufacturers, Purchase, Quality, Supply, Wholesale