Which Surface for Kitchen Countertops is Best – Granite or Quartz?
Views:2 Author:Site Editor Publish Time: 2016-09-29 Origin:Site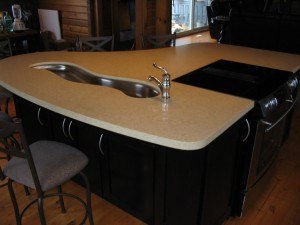 When choosing kitchen counter tops, many homeowners like the look of stone, which offers an almost limitless range of patterns and colours. Granite, one of the most popular countertop materials on the market, is a natural stone. Then there's quartz, an engineered product that mimics the look of stone, which is also very popular.
Here, we'll give you a few facts to help you decide which of these stunning materials is best for your needs.
Durability: Granite is frequently cited as being the most durable natural material for kitchen counter tops, and is well-known for its ability to resist chips and cracks. As a synthetic material, quartz rates slightly higher on the durability scale, and it has more resistance to damage.
Repairs/Maintenance: With annual re-sealing, granite is very stain-resistant. Minor dings or scratches can be repaired with resin or colour-matching epoxy from your home improvement store. But any cracks bigger in size than an ice cube should be repaired by a professional. Quartz kitchen counter tops are non-porous, so they can repel oil, coffee and even food-colouring without having to be sealed. Damaged quartz, however, is more difficult to repair.