The Mid-Autumn Festival with "moon cake gambling" and dinner activities on September 23, 2017-YEYANG
Views:3 Author:Site Editor Publish Time: 2017-09-29 Origin:Site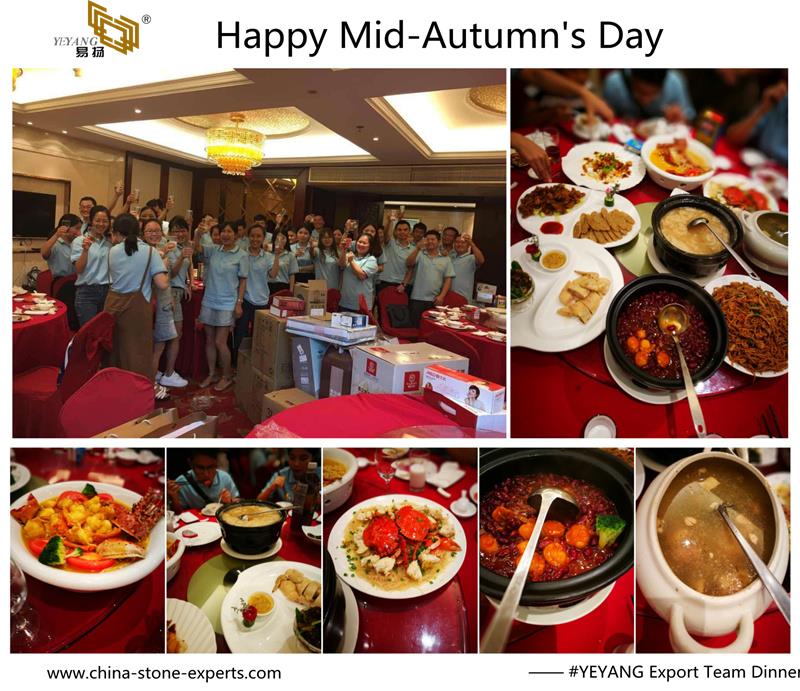 YEYANG SALES team held the Mid-Autumn Festival with "moon cake gambling" and dinner activities on September 23, 2017, in Xin'an Hotel.We are very happy to eat and drink during the meal that there are plenty of seafood, soups, pasta, desserts and fruit.
After dinner, we also held the annual Mid-Autumn Festival "moon cake gambling" activities, resulting in three tables of one scholar, the second one, the visiting flower……
"The moon cake gambling" --

It is really game only play on mid-autumn festival.All the game requires are six dice and a china bowl. Just throw the dice into the bowl - and the different pips you get stand for different ranks of awards you will win.
More customs about Mid-Autumn Festival as follows:
Xiamen
A unique tradition is celebrated quite exclusively in the island city of Xiamen. On the festival, families and friends gather to play a gambling sort of game involving 6 dice. People take turns in rolling the dice in a ceramic bowl with the results determining what they win. The number 4 is mainly what determines the how big the prize is.
The Mid-Autumn Festival (traditional Chinese: 中秋節; simplified Chinese: 中秋节; Vietnamese: that Trung Thu) is a harvest festival celebrated by ethnic Chinese and Vietnamese people. The festival is held on the 15th day of the 8th month of the lunar calendar with full moon at night, corresponding to late September to early October of the Gregorian calendar with full moon at night.
Mainland China listed the festival as an "intangible cultural heritage" in 2006 and a public holiday in 2008. It is also a public holiday in Taiwan and in Hong Kong. In the Vietnamese culture, it is considered the second-most important holiday tradition after That.[citation needed]
Due to ancient China's cultural influence, Mid-Autumn Festival spread to other parts of Asia. Mooncakes have also appeared in western countries as a form of delicacy.
Should you're interested in our new marble and stone countertops, welcome to buy or wholesale the discount product from us. With over 23 years experience, we're one of the professional manufacturers and suppliers in China. Come and enjoy our cheap price and quality service.Email to ceo@china-stone-experts.com