Leaving To Las Vegas, StonExpo Las Vegas /Marmomacc Americas 2017, We Are Coming!
Views:0 Author:Site Editor Publish Time: 2017-01-13 Origin:Site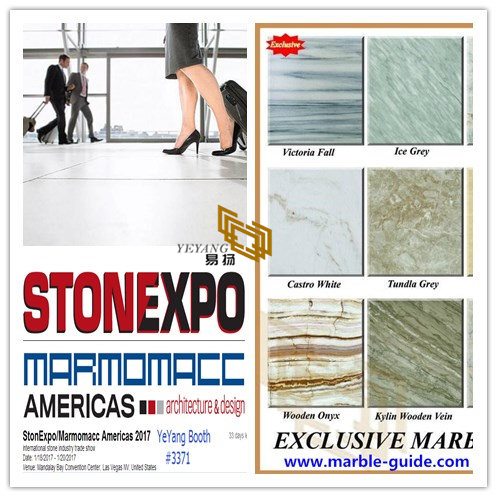 Sophia , Denise and Demi are Leaving to Las Vegas, StonExpo Las Vegas /Marmomacc Americas 2017, we are coming!
Welcome to visit Xiamen Yeyang Stone Group. We are stone factory which is located in stone hometown-Xiamen & Shuitou China.For over 23 years we have been specialized in stone fabrication.
As a group,YEYANG is not only have own 3 factories, but also a group with more than 20 family-owned factories. Since 1993, we have invested more than 10 quarries, including white marble quarry,grey marble quarry,black marble quarry, granite andtravertine.

With big strength of owing 3 trading companies & 3 qualified and professional factories(with total area over 60,000m²), One of big factory is specially for quartz countertops and vanity tops that are mostly for export markets; and the other one factory is specialized in the production of granite slab and cut to size,countertops with 4 gangsaw ; The latest new factory in Nan Tong city near Shanghai is established in 2014 processing marble,marble slab, project cut to size.
Recommended Reading:

Stone Knowledge: Marble Guide , Granite Guide , Quartz Guide , Slate Guide , Countertop Guide , Stone Guide
Marble Sources: Quarry Source , Factory Source , Quality Control , Packing & Loading , Design Ability , Stone Fairs , Countertop Edge Profiles , Countertop Standard Size , Natural Stone Finish .
Recommended Products:
New Marble , Hot Marble , Popular Marble , White Marble , Grey Marble , Black Marble , Beige Marble , Gold Marble , Marble Slabs , Marble Backgrounds , Marble Tiles , Natural Marble , ONYX , Wood Marble , Travertine Marble , Carrara Marble , Marble Quarry , White Marble Quarry , Grey Marble Quarry , Black Marble Quarry , Kitchen Countertops , Quartz Countertops , Granite Countertops , Marble Countertops , Bathroom Vanity Tops , Quartz Vanity Tops , Granite Vanity Tops , Marble Vanity Tops