Laminate Countertops New Innovations Keep Them Interesting
Views:1 Author:Site Editor Publish Time: 2016-04-20 Origin:Site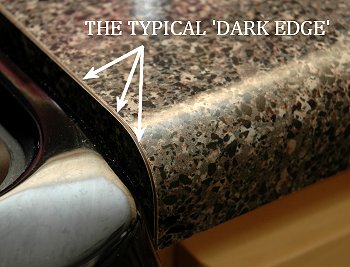 Laminate countertops obviously aren't new. But just because they've been around a while doesn't mean they can't be stylish and trendy.
Laminate still retains all of its good character traits like low cost, ease of maintenance and abundance of color choices. But today there are new textures and lots of new patterns that more closely mimic natural materials.

If that's not enough, there are a number of different edge treatments you can choose that eliminate the dreaded 'dark line' seams. Laminate countertops prove once again that you can teach an old dog new tricks.
The longevity of laminate might lead you to think there's not much more to learn about them. If you're a kitchen designer, you may be right. But if you're a homeowner looking for some advice, the information that follows might be just what you need to know to make an informed decision.
Laminate is pretty basic but there are some important points to consider. Getting familiar with it can help you avoid passing on a product that might be right for your kitchen.

Laminate 101 -- What Is It, What's New And Why Should I Be Interested?
What Is It?
Laminate is a combination of paper and resin that is pressed and bonded (laminated) together under high pressure and heat. The result is a product that is reasonably durable and easy to maintain.
Laminate is typically constructed in three layers. The bottom layer is made from kraft paper (the same paper that grocery bags and mailing wrap are made from) which is soaked in a phenolic resin. (Kraft paper is usually brown which results in those dark brown edges.) The middle layer contains the color/pattern that you actually see. This is followed by a clear layer that may be topped with abrasion-resistant materials. The middle and top layers of laminate are impregnated with melamine, a clear resin.
So why is this important? Just like with any product, knowing the kind of material you're dealing with helps you understand what it will and won't stand up to. Remember that it's basically a plastic, so it has some limitations, particularly with regard to heat and caustic chemicals. Also, the color or print on that middle layer of paper is susceptible to fading from UV light over time, just like other fabrics and colored paper.
Before going any further, lets get familiar with a few terms that you might encounter when perusing various product literature or talking with a kitchen designer: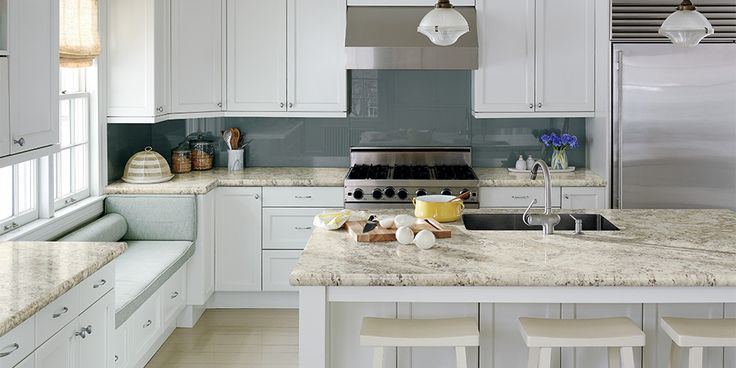 HPL - HPL simply stands for "high pressure laminate" which is nothing more than laminated layers of resin-soaked paper that have been fused together under heat and high pressure. Some manufacturers use the term, others don't. It's just good to know so you don't think the ones that do use it are selling something different.
Post-formed - These are pre-manufactured countertops whereby the laminate is already bonded to the substrate backing. The laminate is usually formed around the front edge and may include pieces glued onto the sides if the side edges will be exposed (not sandwiched between cabinets). They're basically drop-in-place typically sold by big-box home centers. This is in contrast to a custom laminate countertop that's built up according to your plans either on-site or in a countertop fabrication shop.
Grade - Laminates are manufactured in various grades based on their thickness and other attributes. Horizontal-grade laminate is usually the thickest and used in countertop applications. Other grades are thinner and more suitable for vertical applications such as cabinets and wall décor.
Finish - This refers to the surface treatment and how it looks and feels. It may be glossy, matte, pebbled, textured or some combination.
Solid core - The color of solid core laminate goes completely through the material, which eliminates the dark edges and seams. However, this type of laminate is typically more expensive and there are fewer choices available. Other terms that mean the same thing are "color-through" or "through-color".
What's New & Interesting
Think laminate countertops are boring?. Guess again. Here are the highlights:
Plenty of Choices
There are literally hundreds of colors and patterns, from new stone prints to retro-design patterns (yes, the same ones that were on your grandmother's countertops).
Updated Textures & Finishes
Check out the new textures and finishes that incorporate surface variations and mixtures of matte and glossy effects, all in the same pattern. Some textures include small, randomly dispersed "pits" that mimic a stone surface.
Click On Each Image To Bring Up A Larger View To See The Surface Texture Details
No Pattern Interruptions
Forget the seams and repeating patterns. Now you can cover your kitchen island with the representations of a complete granite slab. Most stone-like laminates have a pattern repeat where the "picture" of the stone repeats itself. Formica® has changed this with their 180fx™ line of laminate. It depicts the image of a full slab of granite, like those used on large kitchen islands. Now you can cover your whole island in laminate, complete with the veining and characteristics of a granite slab in all its glory, sans the pattern interruption.
Eliminate the Dark Edges and Seams


Color-through laminate eliminates the dark lines that plague a lot of laminate choices.The edges of the laminate are the same color as the surface, so the result is a less conspicuous edge.

The range of color choices isn't huge, so if a color-through laminate isn't your cup of tea, choose a color/pattern that's similar to the dark brown or black color typical of laminate edging. Those seams will be much less noticeable.

And if that still doesn't satisfy you, there are special edge treatments that get rid of the dark lines and provide a clean and finished appearance. KURV Edges specializes in edging that creates a relatively seamless look. It's a one-piece molding made from the same laminate pattern as the top of your countertops. Once it's added to the edge, it provides a neat, finished look.

Wear-Resistant Surface Treatments
New surface treatments like aluminum oxide provide a much more wear-resistant surface. This gives the countertop a longer life, which is particularly desirable if you don't plan on replacing them until the kids have graduated from college.

Seamless Installation With An Undermount Sink
Do you like the look and easy cleanup that comes with an undermount sink? You now have this option with laminate countertops. For starters, Karran USA makes acrylic sinks specifically made to be mounted under laminate countertops. Counter-Seal® is a solid-surface product that also allows laminate countertops to accommodate undermount sinks. The sink is hung from the Counter-Seal solid surface ring which also acts as a barrier between moisture and the laminate's substrate material.
Updated Edge Profiles
New, more sophisticated edge profiles are available on some post-formed laminate countertops, similar to what's available with solid surface, stone and other countertop choices. These include 'ogee' and 'double waterfall' edges instead of the more plain bullnose edges found on most post-form countertops.
The bottom line is that there are lots of reasons to take another look at laminate. With such a wide range of available countertop choices, laminate manufacturers have had to develop new ideas to retain market share. This kind of innovation comes at a price, however, and some of these features and premium laminates will cost more than a basic countertop. But for the most part, laminates is still one of the most cost-efficient countertop choices, particularly when you factor in its durability and longevity.