How To Choose Granite Sinks
Views:2 Author:Site Editor Publish Time: 2017-11-06 Origin:Site
It is often said that a kitchen is the heart of a home. Your kitchen sink should be a reflection of your style, with all the functionality you need to handle daily chores.
Over the years, suitable sinks for their kitchen countertop projects. We would like to share our experiences with you, so that your shopping for a sink becomes easy and pleasant.
Without saying, a kitchen sink you select should be the one you are in love with and should last for long years of usage without the need for replacement.
What to consider when selecting a sink for your kitchen countertops?
Contributes to the visual appeal and décor of the entire kitchen
Functionality to help daily usage
Durability to last for many years of usage
Fits within your budget
The kind of granite sink we're talking about here is the type made from solid stone.
A composite granite sink is an engineered product, made from a combination of materials.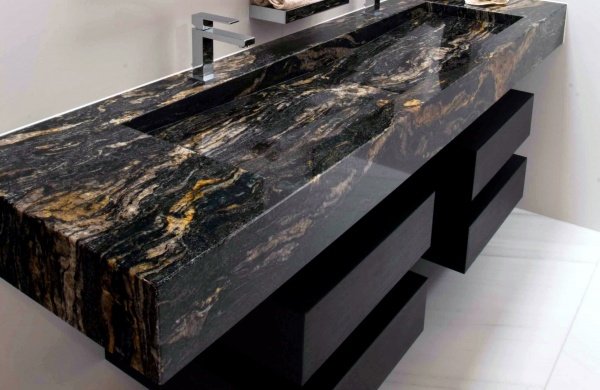 Two ways about Granite Sinks
Granite kitchen sinks can be made two ways. The first involves carving out the basin (or basins, for a multi-bowl sink) from a block of granite. The bowls are literally cleaved out of the block of stone, resulting in a one-piece granite kitchen sink. Some sinks are actually hand carved, with a hammer and chisel whereas others are carved using automated tooling.
The second method of making a granite sink entails assembling it out of several pieces or slabs of granite. The pieces are bonded together and the seams are sealed to make the sink watertight.
Granite Sink Quality
The quality of a stainless steel sink varies widely. Price is often an indicator of the quality and how well the sink will perform.
However, a better means of determining quality is the thickness or gauge of steel, the nickel content of the steel, sound deadening features, and finish.
Stainless steel is an alloy of iron, chromium, and nickel. The term "stainless" refers to it's resistance to rust.
"Gauge" refers to the thickness of the sink, the lower the number, the thicker the stainless steel. Heavier gauge sinks can help prevent denting and bowing. Thickness also contributes to noise reduction from garbage disposals and dishes or utensils hitting the sink. As a general rule, thicker is better. A 16 guage sink is a quality thickness.
Granite composite.
Pros: Made of granite particles and polymers, this material resists scratches and chips. It does not show water spots.
Cons: Lighter-colored granite composite sinks can stain, and some special maintenance is required.
"We are installing a lot of granite composite sinks in Dallas," says YeYang. "Many people here have hard water, and this doesn't show spots the way stainless steel does."
Installing under mount sinks with granite countertops is unquestionably the most popular choice and became almost a standard practice.
Under mount sinks have a beautiful seamless look and blends well with the granite that they are installed into. It is easy to clean the debris from countertops straight .
If you're interested in granite countertops, please feel free to contact us! since 1993, along with 23 years' development, we have Granite & Roman Travertine Quarry more than 10 Quarries ,and also we are including Two Trade Company and Three Factory, our Factory Area is more than 60,000 m². From Yeyang Stone, you always find the stone you need. Feel free to visit our showroom & factory !
If you have granite countertops, you can install a granite kitchen sink made from the same type of granite. The result is a visually seamless look across your kitchen, should you prefer that type of decorating style.