Granite & Quartz Stone Kitchen Countertop & Bathroom Vanity tops for Hotel Projects
Views:2 Author:Site Editor Publish Time: 2017-07-27 Origin:Site
Granite & Quartz Stone Kitchen Countertop & Bathroom Vanity tops for Hotel Projects from Home Depot Supplier

We have rich experience in producing Stone Kitchen Countertop & Bathroom Vanity tops with 20 years experience.And our new quartz factory was established in 2012.

A. Our advantage:
1) with 3 big factories now ,mainly supply granite,marble,quartz slab ,countertop and tile .

2) Cooperated with large importer such as Home depot,MSI etc .We get good repuation from our cooperated customers.We are a reliable and professional stone supplier you can trust.

3) Fine quality,most competitive price,on-time delivery and best service is assured.

4)focus on USA market,70% amount for USA .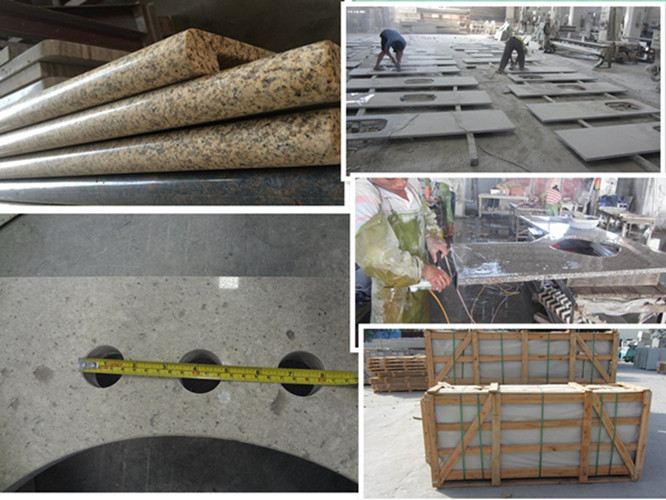 B Popular colors:

Chinese Granite:
Tiger Skin White, G682/Sunset Gold, Shanxi Black, G603/Crystal White, G640/Luna Pearl, G664/Bainbrook Brown, Spary White,G655/Hazel White,G439/Big Flower,Seawave Green,Giallo Golden Autumn, G687/Peach Flower, G654/Padang Dark etc.
Exotic Granite:
Tan Brown, Absolute Black,Baltic Brown, Tropical Brown, Caledonia Brown,Sapphire Brown, Uba Tuba, Kashmir White, Kashmir Gold, Black Galaxy, Mardura Gold, Giallo Veneziano, Santa Cecilla Dark, Santa Cecilia Light, Emperald Pearl, Blue Pearl etc.

Besides granite,we also can supply Quartz & Marble countertops .

C American standard size:
Countertop: 98" x26" ,72"x26",108"x26",98"x39",98"x42",108"x42"
Vanity top: 31"x22",37"x22",55"x22",61"x22",47"x22"
Or customized design is welcomed.

D. Edge finish: Laminated edge,half bullnosed,full bullnosed,bevelled top,Ogee edge,Dupont edge,Radius top etc.

Enclosed some photos(prodction & packing & colors)for reference.


If you are looking for a reliable supplier for your countertop projects,please don't hesitate to contact us.


Email to ceo@china-stone-experts.com