3 popular Stone Countertops Materials
Views:1 Author:Site Editor Publish Time: 2017-10-23 Origin:Site
When professional builders and contractors are looking for natural stone in xiamen, they want the best products available. They can't afford to settle for less, and many contractors turn to YeYang Stone because they know we provide the highest quality natural stone in the xiamen area. We have many different natural stones that come in a variety of color and style options, making it easy for customers to find the perfect new look for their home.
Stone countertops offer a natural beauty that's hard to match in the man-made world. No two countertops are exactly the same simply because no two stone slabs are exactly alike.
It can be tough to choose the right countertop with so many materials available on the market. Here's a guide to popular materials to help you decide what's best for your kitchen.
Marble
Granite
Quartz
Marble is a crystallized stone formed from intense heat and pressure. It's sweeping lines, beautiful colors and high polish convey a look of elegance and prosperity like no other material. Available in many colors from around the world, YeYang Stone specializes in fine Greek marbles.
Because marble can be used as kitchen countertop surface, it doesn't mean it's practical or your best stone countertop choice in that environment . As stated earlier, marble has characteristics that make it vulnerable to etching and damage and your marble countertop is bound to meet up with some of these caustic characters sooner or later. Unless you plan to be very careful with how they're used you might be better off looking at other stone choices or other types of countertop surfaces altogether.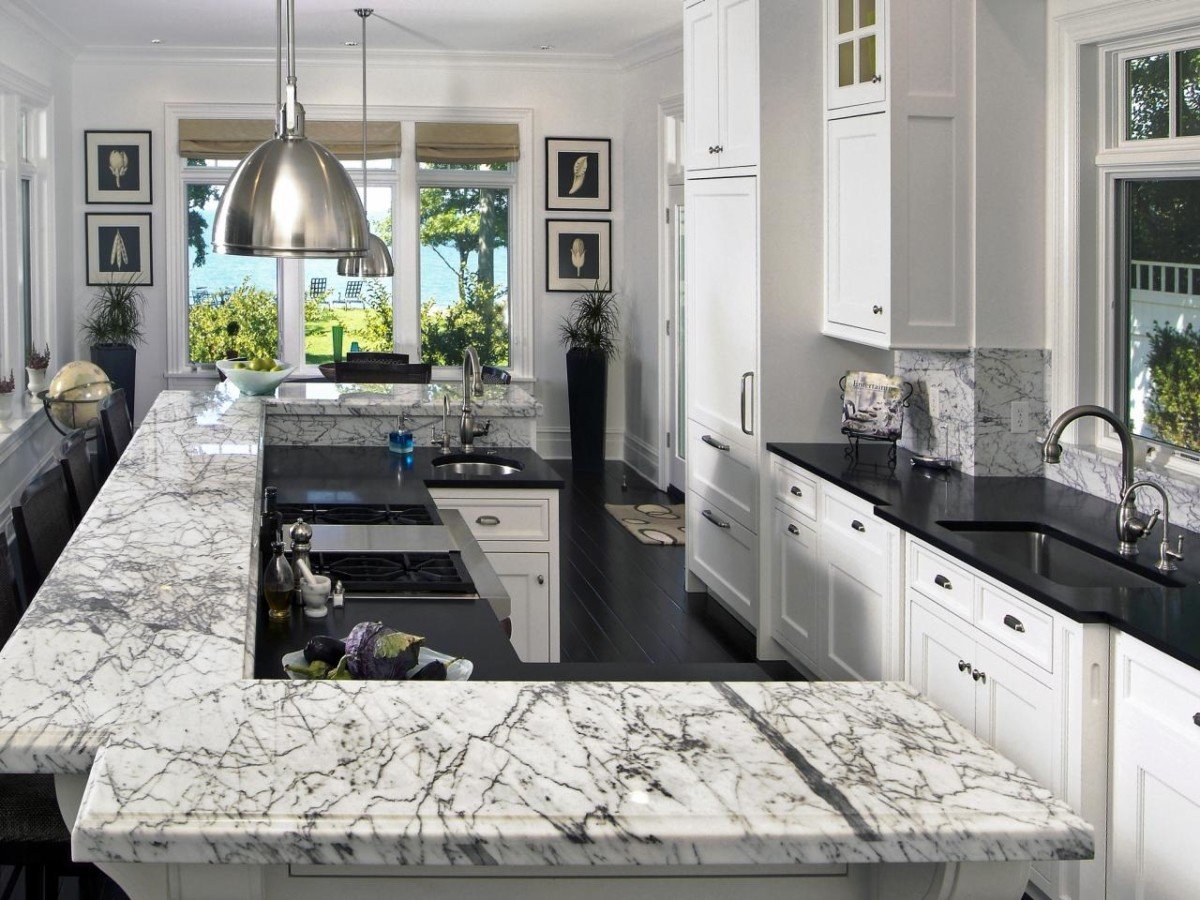 Granite may have more competition than ever before, but its popularity is still unquestioned. The beautiful, strong surface of granite has a natural grain, which gives each installation a unique look. The downside is the fact that it's porous, which means a yearly sealing is required. Stains should also be wiped up promptly. By virtue of its tough natural qualities, granite makes excellent countertops that are resistant to extreme heat, chipping, and cracking. Granite countertops have extremely hard surfaces and you will be required to place your fragile glasses, plates, and cups on it with extreme care.
This is an amazing material. It is naturally strong, resists heat and is hard to stain. Quartzite is formed from sandstone and quartz together under a great deal of heat and pressure. The empty grains of sandstone are filled with quartz. This process makes quartzite harder than quartz. View colors available at YeYang.
These countertops are fabricated from natural quartz to which epoxy resin binders have been added. This combination is what gives quartz countertop surfaces their characteristic toughness and durability. In terms of color you will be glad to know that a wide array of choices is available since individual pigments of various hues are added to the binder during fabrication.

The key point to keep in mind is that each stone has different characteristics and requires different levels of upkeep. If you want to know more information about Countertop Materials, connect YeYang, XIAMEN YEYANG is a comprehensive stone company, we are involved into quarry extraction, block import and process, export of stone tiles, slabs, countertops. since 1993, along with 23 years' development, we have more than 10 Quarries ,and also we are including Two Trade Company and Three Factory, our Factory Area is more than 60,000 m². Professional suggestions will be offered to you, Welcome to inquiry and visit our website for more product information.