3 Most Popular Bathroom vanity top options
Views:6 Author:Site Editor Publish Time: 2017-12-15 Origin:Site
Your first decision to make when buying a vanity top is the type of material used.
Your choice in material shouldn't be based solely on looks. Though style is undoubtedly important, you must also consider strength, durability, long-term value, and upfront cost.
Here are the most popular bathroom vanity top Natural Stone materials, broken down by their pros and cons.
Natural Stone: Whether you're talking about the ever-popular granite or the trendy marble, natural stone countertops have a lot to offer, given that they're durable, beautiful, heat-resistant and, if properly sealed, easy to maintain.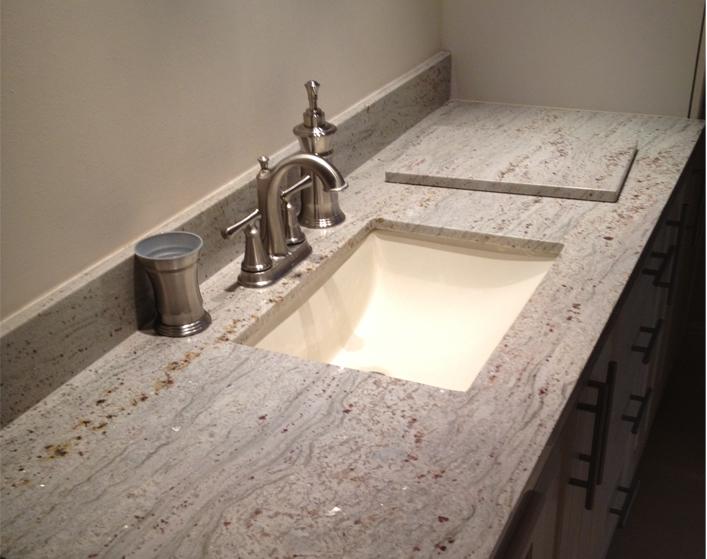 Granite Bathroom vanity top:
If you're in the market for upscale bathroom countertops that deliver beauty and elegance, granite countertops should be at the top of the list. The advantages of granite bathroom countertops include classic good looks, long-lasting durability when basic maintenance tips are followed and their resistance to heat. On the flipside, granite countertop disadvantages include the need to be sealed quite often and the danger of stains when the sealer fails. They might also chip if hard, heavy objects are dropped on them.
If you choose granite bathroom countertops, you should know that professional-quality products are available for cleaning, polishing, sealing, stain removal and chip repair to keep your bathroom granite countertops looking brand new.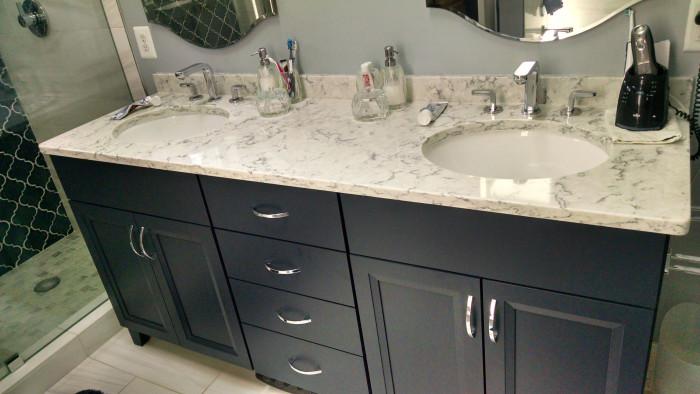 Quartz Bathroom vanity top:
Engineered stone is a hard surface that's a marriage of crushed stone/minerals and resins, compressed into into sheets under high pressure. One of the major players in this category is quartz surfacing. The benefit of engineered stone is that it's non-absorbent (unlike some natural stone) so it doesn't require any sealing or ongoing maintenance. There are plenty of colors and patterns available too, many that mimic the look of natural stone. The fact that it's non-porous and easy to clean in combination with good looks is a winner for me. It's also compatible with any type of sink installation.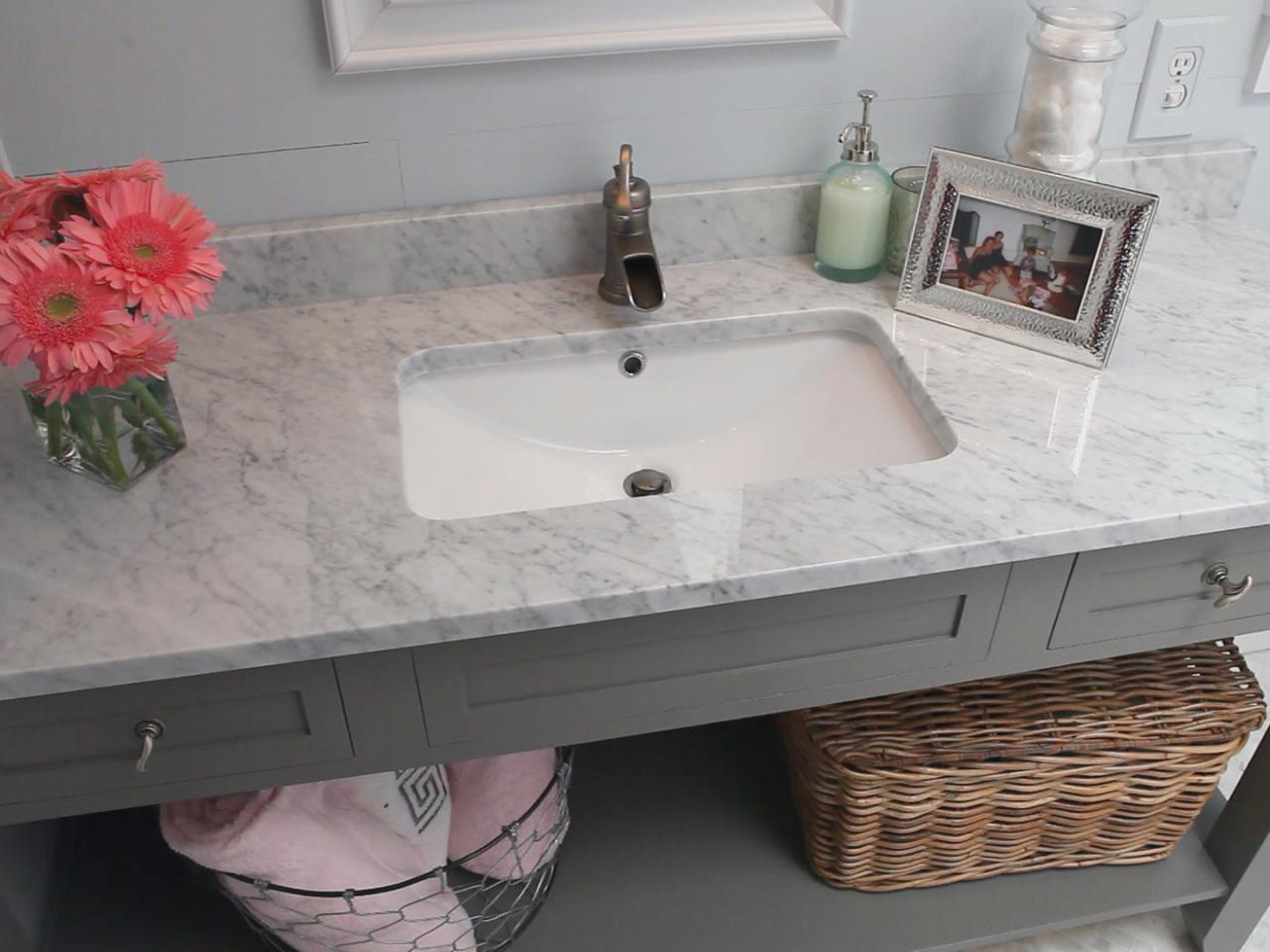 Marble Bathroom vanity top:
The most common patterns are white with streaks of gray (pictured above) or almost black with streaks of white, though there are dozens of options available.
In fact, marble taken from different quarries contains different amounts of minerals. These enable each quarry to produce marble that's slightly different from any other in the world.People love marble for its stylish elegance. In the bathroom, these countertops have long been a symbol of wealth and luxury.The large variety of marble vanity tops and its classic looks make the material a perfect choice for just about any style of bathroom.
The main drawback to a marble is that its prone to staining and scratching. You must reseal yours on a regular basis to prevent staining.Both stains and scratches can be honed or polished out with special cleaning products.
Each of our vanity top material guides provide specific information for cleaning and maintaining that type, so keeping them looking "showroom new" is easy to do.If you are interestde in it,we will offer experienced and useful introduction and suggestion.Yeyang Stone own 3 qualified and professional factories (with total area over 60,000m²) & 3 trading companies, more than 20 family-owned factories.
So come and see us. The beauty of natural stone can only be appreciated by seeing it first hand; and we are always updating our range, so a trip to our factory is worth it.